WebApp
The most complete online collection of professional muscle response test and kinesiology contents.
The WebApp is the heart of Knowlative. It is the most extensive online database of Muscle Response Testing and Kinesiology. It is a sort of Wikipedia but with a proprietary link system that allows us to give meaning to the relationship between different pieces of Knowledge.
For example: you find there all muscles that move a joint, sorted by direction of movement, with all their tests and a lot of associated reflexes and corrections.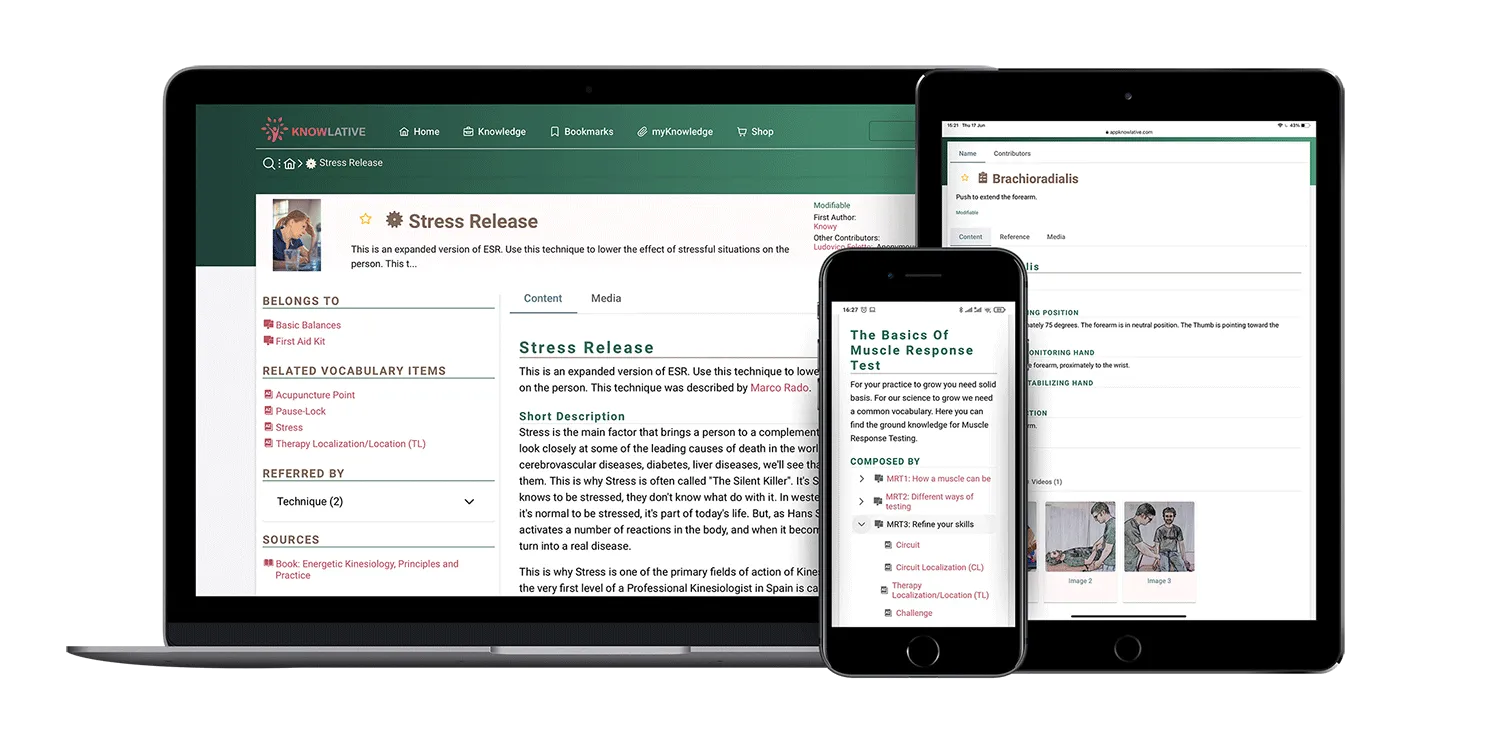 You can find more than 150 techniques, all joints and muscles of the human body, all acupoints and meridians, all vitamins and minerals and their relation to muscles. But also, digital modes, formats, at least 1 muscle test for every muscle and much more.
More than 5000 different topics built for muscle testers in a fast and usable database growing every day.
Every topic has direct links to all related knowledge so you can easily find the right balance while working, but also precise anatomical and physiological description if you need to learn more details.
Knowlative is collaborative knowledge: the App is the place where every Pro user can share new knowledge and experience and can benefit from the collective knowledge of a worldwide community.
The playback of every event, the manuals and documents, are shared with the participants in the WebApp and linked to all other knowledge.
There are 2 levels of access:
⦁ Free: gives you full access to vocabulary definitions and let you use a selection of the contents of the database. You can find a limited replica of the free contents in the blog.
⦁ PRO: Unlocks the full potential of Knowlative: access all PRO contents, comment on existing knowledge, create you own knowledge and to update the existing.
See examples of contents of the WebApp in the Free Contents section.
Discover more
Would you like to see more about our articles? Log-in our WebApp and enjoy all our contents!
Not subscribed yet? Discover more on our WebApp.
Free Account
Pro Account

0

€/month

19

€/month*
Access to Vocabulary, Acupoints, Principal Meridians, Authors
Yes
Yes
Access to Open House playbacks
Selected
Yes
Access to all muscles and muscle tests of the Knee and Wrist
Yes
Yes
Access to all muscles and muscle tests of the body
No
Yes
Access to Digital Modes, Formats, Techniques, Frequencies and much more
No
Yes
Possibility to Author and Publish new knowledge
No
Yes
Navigate with the cross-links system
Selected
Yes
"Invite a Friend" revenue for each PRO friend invited
No
3 €/month
Benefit calculated
No
Every month
Possibility of positive balance if discounts exceed price due
No
Yes
Billed (Switch plan anytime)
No
Monthly
Minimum permanence period
None
1 month
Unlimited access to purchased events playbacks
No
Yes
*16 €/month if you subscribe with a friend code
A huge database of techniques, knowledge and protocols, always updated and constantly growing
Easy access to reference material
Periodical publication of thematic groups to focus your skills and cross-reference contents: you can publish your own groups and contribute to existing ones to present your knowledge and attract other users to your work
Access techniques from many different schools and modalities, choose what to master next, be in command of your learning experience
Share your insights and experiences and access to the contributions of all your peers
Embed videos, pictures and documents in your content
Forget carrying around your manuals, books and atlases: access Knowlative from any device, anytime
Much more fun and effective to access than a paper manual
Our common mission is to spread Energy Kinesiology and Muscle Response Testing quickly and attract more students and practitioners to this incredible science: Knowlative is a tool crafted just for this
Connection and cooperation is the key to make Energy Kinesiology widely used!
Did you participate to one of our events?
If you participate to one of Knowlative's events, access the playbacks and all documents inside the WebApp. If you have a PRO account, you will have access forever!
Are you an Author, School or Association?
Beautiful pictures of acupoints, meridians, muscles, muscle tests, key concepts, and a huge vocabulary database that you can reuse in your work (all "our" pictures are under Creative Commons license) and link to when sharing your knowledge
Spread your work in a safe way and be acknowledged for your efforts
Access and create groups of knowledge related to your modality accessible to your instructors and students: provide everything they need at the click of a button from any device
Share some knowledge only with selected instructors and selected students in a secure way: no one will ask for a pdf anymore and you decide who sees what
Give your students a new technological tool to access all the base knowledge that will be taught in the course they are going to attend
Spread your courses by sharing highlights with the community of Muscle Testers
By publishing new content in Knowlative you can advertise your association and attract more members
And it could also be a source of revenue!
And if you like all this and invite your friends to Knowlative you can lower your monthly fee (and even earn a revenue) of 3 Euro/month for every friend with an active Pro subscription!
In Energetic Kinesiology we use the term 'permissions' to talk about the participation of the client in their session. No matter what modalities you work with or where you live, asking for permissions should be the first thing you do when a client comes in. Different...
читать далее